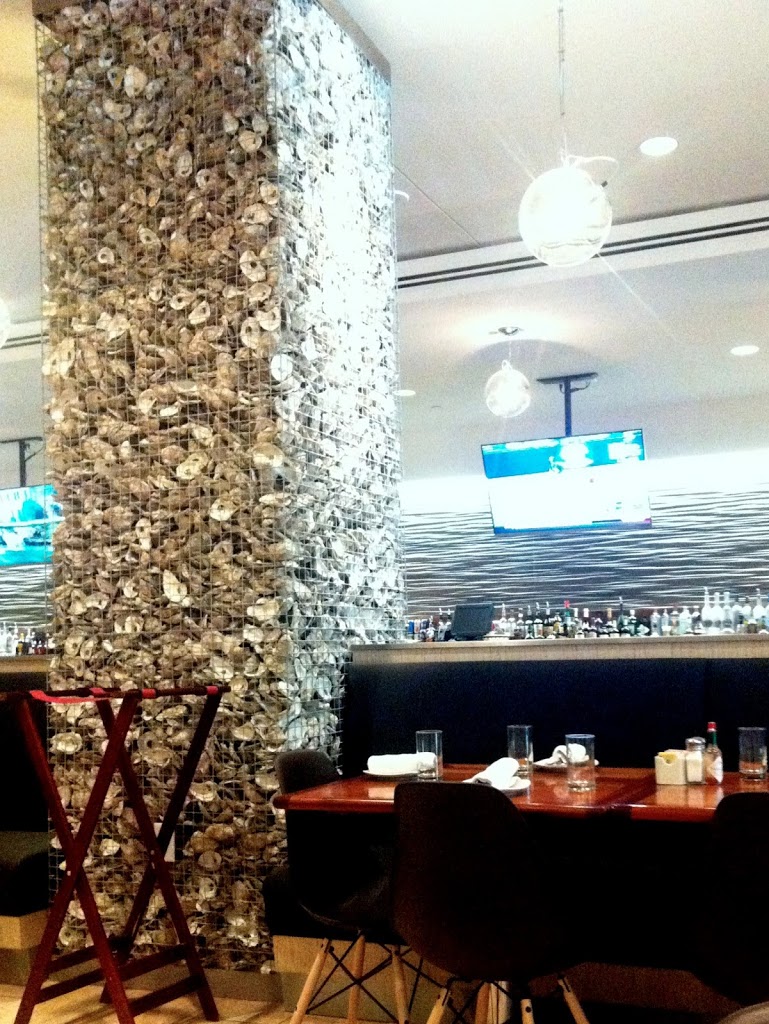 After attending Chef John Besh's
nola takeover in austin
, he instantly became a culinary favorite of mine. Besh
knows
French creole cuisine. And he does it well.
Borgne is John Besh's newest of nine restaurants in New Orleans. Besh worked with Executive Chef Brian Landry, whom I both met over the course of the weekend (still starstruck!). Their talents merged a few years ago, and Borgne was born.
Ashley and I received incredible service by the
Borgne
staff as soon as we walked through the doors. We were coincidentally seated by a Memphis high school acquaintance of mine and immediately introduced to our lovely waiter, restaurant manager, and Chef Brian Landry himself.
I loved the Louisiana oyster columns that anchored the restaurant's open structure. The bar area created a sports-bar feel with flat screens and LSU baseball playing behind our table. But the large booths and natural sunlight also added to a casual dining experience.
menu
Borgne's menu is "a celebration of all that the local waterways have to offer" with sustainable seafood and artistic preparation. The playful, handwritten comments along the menu margins add to Besh and Landry's personal touches on classic dishes. After ordering GIANT bloody marys, we decided to keep the meal on the lighter side by ordering primarily appetizers instead of entrees.
We began with a warm rosemary baguette wrapped in a brown paper bag with the Borgne logo. Loved that extra touch!
The appetizers were top-notch. I ordered half a dozen oysters on the half shell...and I am 100% serious when I say that these were the largest oysters I had ever eaten! If you thought that oysters were supposed to fit on a saltine cracker...well, you're wrong. These were twice the size of the cracker. I was in heaven.
Garlic clove shrimp arrived next in a small cast iron dish with piquillo pepper, sherry, cherry tomatoes and herbs. The shrimp fell out of their shells effortlessly. The crostini tasted burnt instead of toasted, but I took the rosemary baguette instead to soak up the garlicky broth.
The staff additionally brought us the top-selling appetizer on the menu: duck poppers with jalapeño and bacon on a bed of fresh groat cheese. I would have never, ever ordered this dish since I'm a seafood gal. But it was damn good. Smoky, rich, and a popper of flavor!
The jumbo lump crabmeat and beet salad was divine. The simplistic ingredients went super well together...who woulda thought! And sesame chips, placed beautifully across the plate, were the perfect size to scoop up the salad's ingredients. While the horseradish dressing was creamy, it was tangy and refreshing.
I still cannot believe they brought us complimentary dessert. I was so stuffed by that point! But this chocolate hazelnut pudding with condensed milk sorbet and baby meringues was too good to pass up. The pudding was perfectly smooth, and I enjoyed the crunch from the nuts and meringues. Plus, how cute is the mason jar presentation...
Although I knew before my lunch that I'd leave satisfied, I never imagined such exceptional service and dishes. This meal goes down in my New Orleans visiting history. I cannot wait to come back down.